When?
Live April 9 & 10, 2021
Get access to recordings for 3 months after event.
Where?
100% Online
Attend Live as per schedule or Recordings (Shared soon after Event) or Both as per your convenience
Who should attend?
All Investment Professionals are welcome!
Wealth Managers, Mutual Fund Distributors, Investment Advisors, Stock Market Professionals and other Capital Market Participants. Anyone who deals with and recommends investments to his / her clients will find the Sumit highly useful and relevant.
Summit Mission
The NFP Investment Summit 2021 aims to achieve the following;
Investment Success – What really will lead to Investment Success of your clients in 2021-22 & beyond
Investment Strategies – How to guide your clients / investors on right investment strategies in 2021-22 & beyond
Investment Outlook – What to expect from Equity & Debt Markets / MF Performance in 2021-22 & beyond
Investment Business – How to grow your Investment advisory & distribution business in 2021-22 & beyond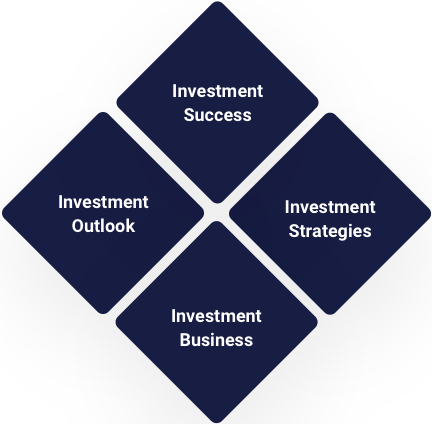 Speakers - The Masters of Investing World
Network FP brings to you India's leading investment managers & thought leaders to share their ideas, strategies and secrets for delivering a great investment experience to your clients and investors in the Financial Year 2021-22 & beyond.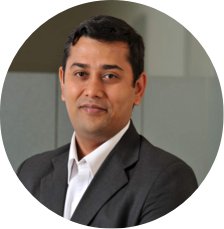 Jinesh Gopani
Head - Equities
Axis Mutual Fund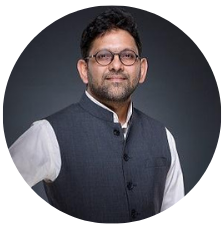 Kalpen Parekh
President
DSP Mutual Fund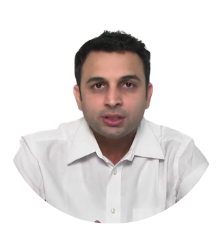 Kaustubh Gupta
Sr. Fund Manager, Fixed Income
ABSL Mutual Fund
Nilesh Shah
Managing Director
Kotak Mahindra AMC
Prashant Jain
Chief Investment Officer
HDFC Mutual Fund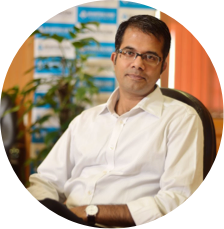 R Srinivasan
Head - Equities
SBI Mutual Funds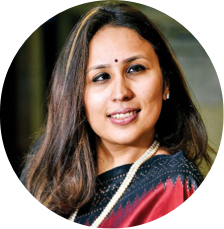 Radhika Gupta
MD & CEO
Edelweiss Asset Management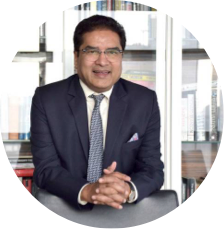 Raamdeo Agrawal
Joint Managing Director
Motilal Oswal Asset Management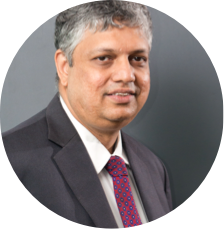 S Naren
Chief Investment Officer
ICICI Prudential AMC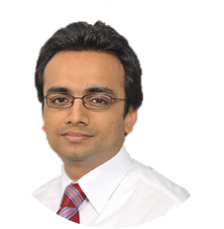 Suyash Choudhary
Head - Fixed Income
IDFC Asset Management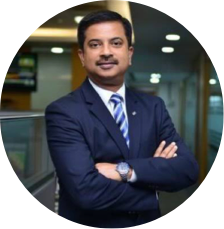 Swarup Mohanty
Chief Executive Officer
Mirae Asset Global Investments (India)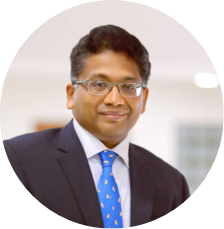 Vetri Subramaniam
Head - Equities
UTI Mutual Fund
Instant Sign-up Bonus - Mutual Fund Research Template
The Schedule - 16 Powerful Topics
These Summit topics and agenda have been carefully shortlisted based on the current knowledge requirements of financial advisors and distributors. The Summit content is bound to give you a very structured way of analysing and shortlisting the right investment options for your clients / investors in FY 2021-22 and beyond.
Day 01
Friday, April 9
9:00 AM

Welcome Address

By Summit Director & Chair

9:15 AM

Nilesh Shah with Amit Trivedi

Government Policies & Performance - Review & Impact on Investments

10:00 AM

Raamdeo Agrawal with Gajendra Kothari

Value Migration - Current & Future Opportunities for Investors

10:45 AM

Swarup Mohanty with Karan Datta

30L Cr to 100L Cr AUM - Benefiting from the MF Industry Growth

11:30 AM

R Srinivasan with Mukesh Jindal

Bottom Up Vs. Top Down - How the style Impacts Fund Performace?

12:15 PM

Jinesh Gopani with Hemant Rustagi

Quality is Good but Expensive - Where are the Opportunities?

01:00 PM

OpenTalk : Equity MFs moderated by Dhaval Kapadia

with Dhruv Mehta. Hemant Rustagi & Mukesh Jindal

2 to 4 PM

Break

Lunch Break followed by next set of sessions!

04:00 PM

Kaustubh Gupta with Kirtan Shah

Macro & Micro Economic Indicators likely to impact Debt Mutual Funds

04:45 PM

OpenTalk : Debt MFs moderated by Kayezaad Adajania

with Vishal Dhawan, Kirtan Shah & Bharat Phatak

05:30 PM

Prashant Jain with Shyam Sekhar

PSU Disinvestment & Privatization - Review and Impact on Portfolios

06:15 PM

Day One Closing
Day 02
Saturday, April 10
9:00 AM

Day One Re-Cap

Quick Re-Cap of Day 1 Learnings

09:15 AM

Radhika Gupta with Lovaii Navlakhi

Exposure in International Markets by Retail Clients

10:00 AM

S Naren with Amit Biwalkar

Incorporating Fund of Funds in Client's Investment Portfolio

10:45 AM

Suyash Choudhary with Sujata Kabraji

Asset Allocation for Fixed Income Portfolios of Clients

11:30 AM

Kalpen Parekh with Vishal Dhawan

Preparing Investors for Known & Unknown Investment Risks

12:15 PM

Vetri Subramaniam with Kavitha Menon

Evaluating Fund Management Process for Picking the Right Funds

01:00 PM

OpenTalk - The Making of Successful Investment Professionals

with Rajesh Krishnamoorthy, Vidhu Shekar, VR Narasimhan & Sadique Neelgund

2 PM to 4 PM

Break

Lunch Break followed by OpenTalks & Summit Test

4:00 PM

Summit Test

Participants take the Test and Get Your Certificate of Completion

4:45 PM

Open Talk : Theme based MFs moderated by Uday Dhoot

with Lovaii Navlakhi, Kavitha Menon & Harsh Roongta

5:30 PM

Open Talk : Hybrid MFs moderated by Bhavesh Bhatt

with Gajendra Kothari, Amit Bivalkar & Sujata Kabraji

6.30 PM

Summit Closing
OpenTalk Panelists and Session Moderators
Each session will be moderated by senior practitioners representing the financial advisors & distributors and shall be asking the most relevant questions to the speakers. The same moderators will also be part of OpenTalk Discussion where they will freely sharing what are their current strategies and thoughts around various categories of mutual funds. We would also be having a Panel with our knowledge partners discussing the making of a Successful Investment Professional.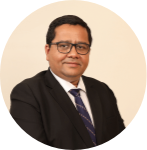 Amit Biwalkar
Sapient Wealth Advisors & Brokers
Amit Trivedi
Karmayog Knowledge Academy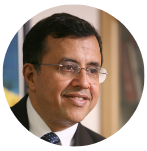 Bharath Phatak
Wealth Managers (India)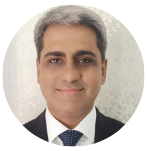 Bhavesh Bhatt
Ghalla Bhansali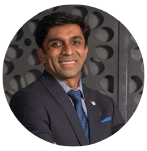 Dhaval Kapadia
Morningstar
Gajendra Kothari
Etica Wealth Management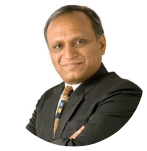 Harsh Roongta
Fee Only Investment Adviser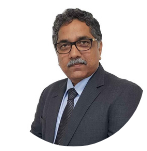 Hemant Rustagi
WiseInvest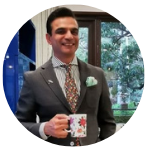 Karan Datta
Speaker, Thinker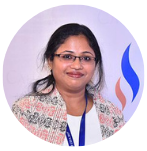 Kavitha Menon
Probitus Wealth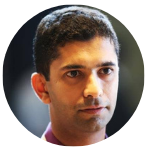 Kayezad Adajania
Money Control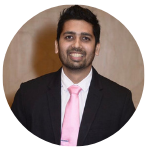 Kirtan Shah
SRE Wealth Management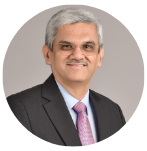 Lovaii Navlakhi
International Money Matters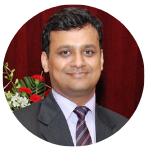 Mukesh Jindal
Alpha Capital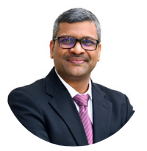 Rajesh Krishnamoorthy
FPSB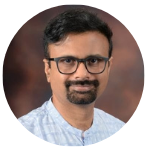 Shyam Sekhar
iThought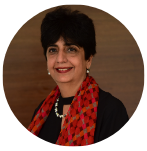 Sujata Kabraji
Independent Finance Professional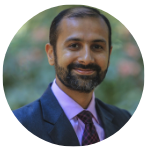 Uday Dhoot
Venn Wealth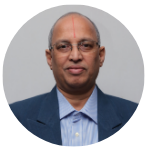 V R Narasimhan
NISM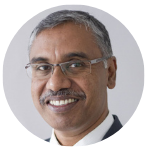 Vidhu Shekhar
CFA Institue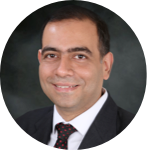 Vishal Dhawan
Plan Ahead Wealth Advisors
Summit Taskforce & Hosts
The Summit is conceptualised and driven by the NFP Summit Taskforce & Hosts comprising of senior practitioners who understand the real knowledge needs & practice concerns of the fraternity.
Arvind Rao
Arvind Rao & Associates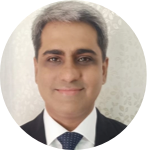 Bhavesh Bhatt
Ghalla Bhansali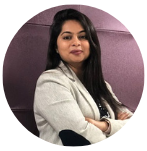 Khyati Mashru
Plantrich Consultancy LLP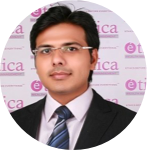 Nikhil Kothari
Etica Wealth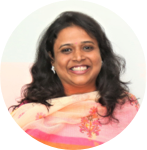 Nisha Sanghavi
Fynomics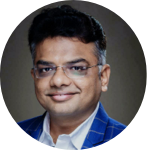 Vivek Shah
Finrise Financial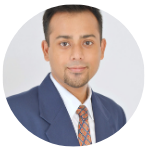 Arijit Sen
Merry Mind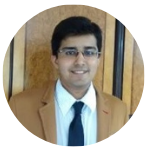 Jinay Savla
Circle Wealth Advisors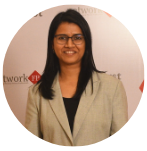 Priyanka Ketkar
Purple Finch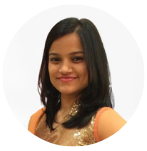 Saanika Bhingarde
Prospero
What you get when you join?
NFP Investment Summit 2021 is power packed and participants get super value for money. More than anything you will get a very fresh and structured approach to analyse, shortlist and recommend the right investments to your clients / investors.
16 Powerful Sessions
Each topic of Summit is impactful with actionable ideas to help your clients and your practice
24 Amazing Speakers
Get ideas, strategies & secrets directly from accomplished speakers along with Q&A.
All Recordings
Get recordings till December 2021, watch them again to reinforce your learnings from key sessions.
Awesome Bonuses for Early Birds
PreEvent MasterClass
How Financial Consultants can Build Quality Asset Book & Solid Income Stream
eBook
101 Powerful Strategies & Ideas for Investment Success
Test & Certificate
Take the Test based on Summit Learnings and get a Completion Certificate which is worth sharing with your clients & friends.
Register Now with Early Bird Discount
Instant Sign-up Bonus - Mutual Fund Shortlister Template
Participating Investment Management Companies
Investment Summit speakers represent India's leading Asset Management Companies. Sessions are going to be educational in nature and non-promotional. Interested delegates may approach the relationship managers of these companies for additional discount on Summit registration fees.
Why Financial Advisors
NFP Virtual Events
Network FP has been organizing high quality MEGA events for Financial Advisors since Year 2011. Thousands of financial advisors from over 100 + cities and towns from across India attend our events including virtual events. This is what delegates said about our last virtual event.

Krishna Kiriti
Hyderabad
Best Event ever attended Online!
The SFA Summit has been the best event ever attended online. The energy of the Team, Speakers, Moderators left the attendees asking for more. Every minute detail was planned for and the learnings shared were of immense wisdom. Overall a great experience. Network FP has shown everyone in the industry how an online event should be organized at scale.

Ankita Kariwala
Mumbai
There was something for everyone to take away
A very well thought Summit. No matter what kind of attendees were there, right from a beginner to a veteran, there was something for everyone to take & learn from the sessions. The topics were very relevant to the current scenario. The Q & A with each speaker was the cherry on the cake because the questions were thought through. The execution of a 3-day event by the team was quite smooth. Keep up the great work!
Bal Sachin Gupta
Lucknow
How can one sit in front of the screen for 3 days?
I was imagining, how can one sit in front of the screen for 15hrs - 3 days fully focused? But NFP has delivered over and above my expectations. I did not feel like leaving the screen even for a minute. day one when I missed a few sessions it was like I missed something very important and suddenly I saw the message that we would also be getting the recording of the sessions, this got me relaxed, this kind of aura was created by the NFP Team!

Diya Thommy
Bengaluru
You bring in an essence of joy to the whole learning process
Network FP, what an amazing job you've done! The speakers were top-notch and the topics were relevant and insightful. Kudos to the whole team for making this such an interesting event. We knew we'd learn, expect it when Network FP is involved. But you bring in an essence of joy to the whole learning process. NFP, we are fortunate to have you at the wheel. Like fine wine, you guys just get better every time! Looking forward to the next!

Rikth Dutta
Howrah
I joined the summit only for CPD points, but...
To be honest I joined the summit for CPD points, but now I realise how important the Summit was for me. Speakers were really helpful and gave us an insight about the current market scenario, how to deal with clients, how to manage different aspects of business and so much more. Big thanks to Network FP for organising this summit, they have been really helpful and the summit went really smooth and filled with entertainment.

Nita Menezes
Mumbai
Truly International Standard
Awesome Summit! The Network FP team conducted it so well. Mastermind and power-packed sessions from awesome speakers, all stalwarts together. Loved the Team sync and the process/format followed. One of the best online conventions I have attended to date...Truly #international standard. You have taken care of each and every minute detail -Introduction, photo session, awesome power-packed sessions, a selfie with the speaker. Everything was on time. Got 300+ cumulative years of experience all packed in 3 days.

Akash Khandelwal
Jaipur
I was first sceptical about signing up, but…
Initially, when I got across these conference ads on Facebook, I was first sceptical about signing up, but this has been the best conference I have attended in the recent while. Industry leaders were there to showcase their practices and experiences. One of the best parts of this conference was, engagement throughout the 3 day period. The most important point being sessions were not at all repetitive, well-researched topics were given according to their forte.

Naela Jamal Rushd
Lucknow
100x more effective than any physical event
The online summit was 100x more effective than any physical event could have been. Excellent speakers and superlative sessions, and all from the comfort of one's own location. I feel, one simply cannot ask for more. Thank you, Network FP, for this superb initiative.

Jinto Vincent
Thrissur
Meticulously planned and ZOOMly executed
I am attending this type of webinar for the first time, it's awesome. Meticulously planned and ZOOMly executed through a vast NETWORK of professionals. Cheers to the entire crew. Feels like reading 21 books within a short span of 3 days which gave lots of insights. Even if one can simply takeaway 3 ideas that speakers shared, it's worth it. Next is our turn to get all the ideas into action. See you all at the next event!
Earn & Share this Certificate
Investment Summit delegates can earn this prestigious certificate of completion demonstrating your commitment to continuous professional development to your clients and friends, thus establishing your credibility of being a knowledge-driven investment expert. CFA Institue, FPSB, NISM & QPFP are our Knowledge Partners of the Summit. This Summit is also eligible for 10 CPD / ACE Points for CFP / QPFP Certificants.
How to Get Your Certificate of Completion
Attend the Summit Live / Recorded
Take 45 Minute Test based on Summit
Score 60% or more in Test (30 Qs)
NFP issues Certificate upon passing
Download Certificate instantly
Share it with Clients and Friends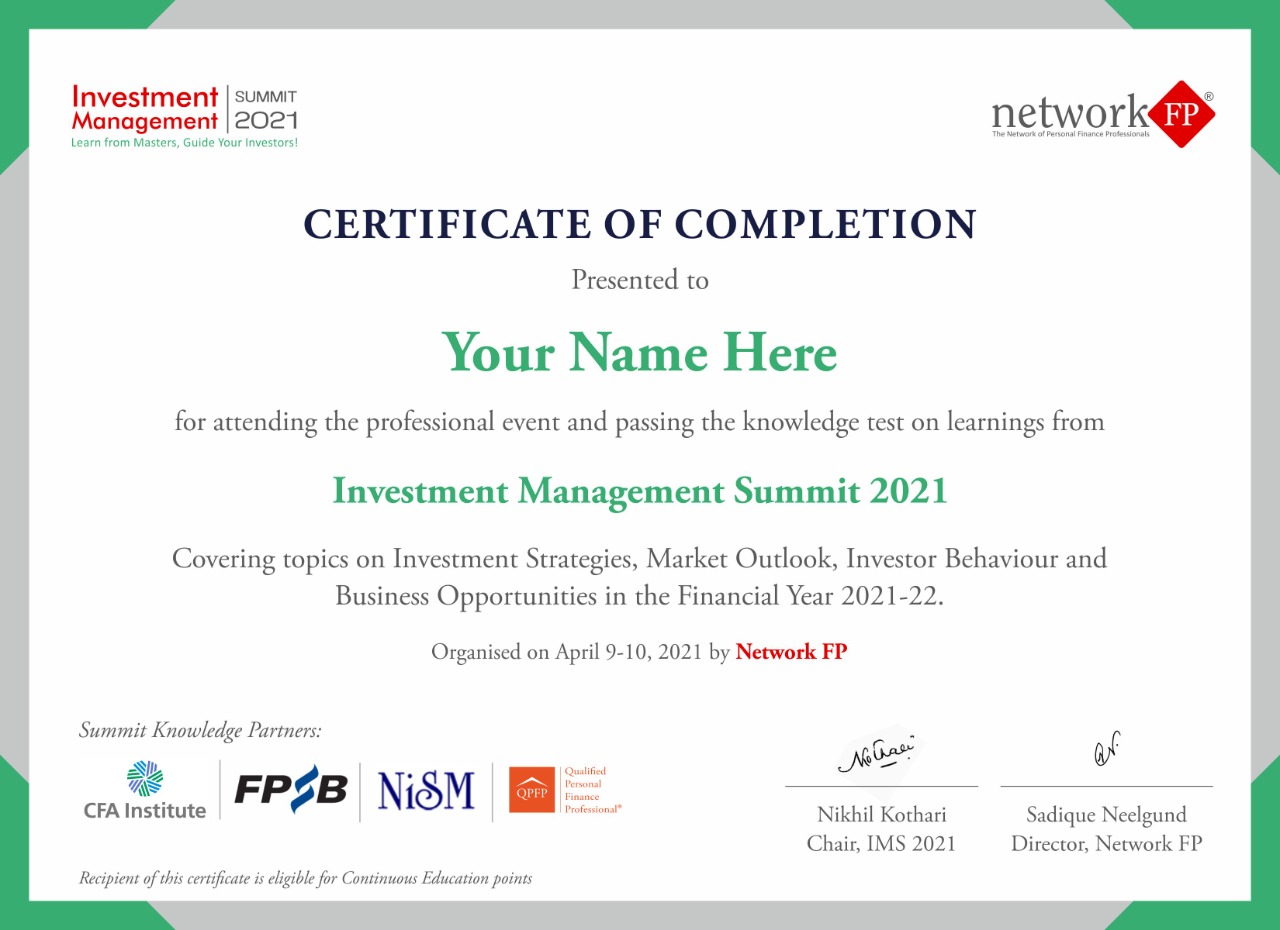 Frequently Asked Questions
Need answers? Find them here
How do I attend the event – live or recordings or both?
NFP Investment Summit is a 100% online event. You may attend either live sessions or recorded sessions or both based on your interest and availability. Live session joining links will be shared a day prior on mail and mobile. Recorded session links will be shared soon after the live event. If you miss any session, you can always catch up!
Who is this event for? Will it be useful to me?
All Investment Professionals are welcome to join this one of a kind event. Wealth Managers, Mutual Fund Distributors, Investment Advisors, Stock Market Professionals and other Capital Market Participants - this is just the event for you. Anyone who deals with and recommends investments to his / her clients will find the Sumit highly useful and relevant.
Will Industry Speakers answer queries related to practitioners?
Each session of the Investment Summit is going to be moderated by senior practitioners who would be taking up the relevant questions and addressing the need of the hour for each topic.
Will online event be effective? How different is it from webinars these days?
NFP Investment Summit 2021 is not another webinar which most of us have been attending during the lockdown days. The Summit is going to be highly engaging with activities, well moderated, very structured and superbly managed to give participants a rich learning experience from the comfort of our homes/offices. Do go through our Testimonials section by our attendees of the last online summit.
What do I need to attend the event?
A laptop or mobile with a regular internet connection is all you need to be an attendee. What's more important is your time & commitment. As this is a transformational event, we request participants to block their time either for live or recorded sessions as per convenience. We would encourage Live participation in the event for more focussed learnings with the fraternity.
When will I get my sign-up bonus and other bonuses?
Immediately after sign-up, you will get email to access your sign-up bonus i.e. Mutual Fund Research Template. The pre-event MasterClass would be held one Wednesday prior i.e on 7th April and you would receive the Certificate right after you take up the Summit Test. Ebook would be shared after 2-3 weeks of the event.
How do I get my certificate?
All participants attending the session live / recordings and taking the Summit Test within one week would get their certificates instantly on clearing the Test with 60%.
Can I take the Test later and get the certificate?
The test link will be closed one week after the summit i.e on Saturday 17th April, all participants who wish to get the certificate need to take the test within a week after the live summit.
As a CFP / QPFP, How do I claim Continuing Education Points?
All CFPs, QPFPs are eligible for 10 Continuing Education points for attending the Summit. You need to attend the sessions live and take / pass the Test to earn points. You would be asked to mention your FPSB / QPFP number while taking the test which would be directly reported to respective authorities for points.
Register to Join In
Get hundreds of actionable ideas from the Investment Masters and Investment Practitioners PLUS amazing bonuses to offer the right investment strategies and opportunities for your clients.
What you get after registering?
Super Powerful Sessions with 100 plus Actionable Ideas (Live + Recordings)
Learn directly from India's Top Master of Investing with Live Q & A
Amazing Bonuses – MasterClass, eBook & Completion Certificate!
Instant Sign-up Bonus - Mutual Fund Research Template
Got Any Questions?