About Program
Network FP's ProMember ACE (Annual Continuous Education) is a highly structured & a very practical education program for financial advisors in India to help them grow & succeed. Currently 1,000+ members in 100+ cities are benefiting from the program!
Highlights of the Program
Weekly Sessions
Includes 100 Hours of Professional Continuous Education per year
Practical Learnings
Quality and practical learning with direct relevance to practice / career
Industry Experts
Delivered by thought leaders, industry experts & veteran practitioners
Online Experience
Attend sessions live or recordings from comfort of your home / office
Members Login
Exclusive portal to watch recordings, download tools, take quizzes
CPD / ACE Points
CFPs & QPFPs - Take quizzes and earn required CPD / ACE Points
Session Benefits
Network FP ProMembers get to attend either live or recorded ongoing educational sessions throughout the year under Weekly UpSkills, Monthly MasterClasses & Annual Conference.
Weekly Sessions
Enhance your skills, learn to use new tools, upgrade your knowledge, learn new strategies week on week every Wednesday at 10AM live or watch recording at convenience.
Monthly MasterClasses
Community learning with thought leaders and masters of profession to get inspired, grow your practice & stay updated every 4th Wednesday of month live or watch recording at convenience.
Annual Conference
Participate in India's largest conference & exposition for financial advisors. Get ideas for progress, connect with community and re-energized to take on the world!
View Schedule of Sessions
Eligibility Criteria
All personal finance professionals are welcome to join the Network FP ProMember ACE Program who fulfil the following eligibility criteria - 1) Graduate in any stream + 2) Passed ANY ONE industry certification like NISM VA / VB, AMFI MFD, any NISM exams, IRDA, any module of CFP / QPFP / CWM etc + 3) Completed ANY ONE of the qualification like QPFP / CFP / CWM / CFA / CA / MBA or PG in Finance or Personal Finance.
Coverage of Topics in Program
ProMember ACE Program sessions fall under the following Nine Areas of Network FP's Knowledge Framework for Personal Finance Professionals.
Foundation – How to be a competent, ethical & productive financial advisor
Solutions – How to create various financial advisory solutions & value added services
Products – How different personal finance products work & their suitability to clients
Acquire – How to acquire new clients, generate leads and increase conversions
Service – How to deliver world class service to clients & increase client satisfaction
Retain – How to serve and retain clients for a lifetime with 'clients for life' approach
Systems – How to set-up systems for increased efficiency and effectiveness
Technology – How and what technology to use in your financial advisory practice
Team – How to scale up your practice by hiring and building a good team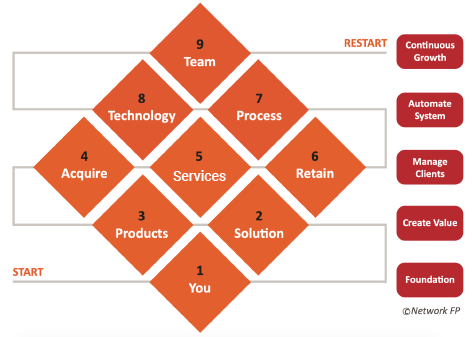 What you get as a ProMember?
Network FP ProMembers get the following benefits on an ongoing basis in their annual membership;
Weekly & Montly Sessions
Attend Live or watch recordings or both as per your convenience (worth ₹35,000)
Annual Conference
Happens beginning of every year. Get free pass for virtual tickets. (worth ₹5,000)
Members Login
Watch session recordings, download tools, take quizzes & test yourself. (worth ₹10,000)
Instant Benefits after Sign-Up
25 Tools & Templates
Download tools, templates & calculators which you can start using instantly (worth ₹15,000)
1 Year Recordings
Get access to recordings of last one year's weekly and monthly sessions. (worth ₹15,000)
25 ClientConnect Images
Download and share with clients & prospects to build your personal brand. (worth ₹5,000)
Why ProMembers Network FP
NFP Team strives to deliver the best and is committed to the growth & success of our members, delegates and students. Here are some kind words shared by them.
I am NFP ProMember from last 5 years. The journey has been great. I can see myself growing as a person due to various inputs received in National Conference and Masterclasses. I recommend all the new IFAs to become a ProMember of Network FP and you will see your life changing for good.

Saurabh Bajaj

Learnings from Network FP has helped me in growing my practice by 40% over last year. Weekly upskills and monthly masterclass keeps me updated and also helps me remain positive by interacting with fraternity members.

Yeshwant Shingwekar, Mumbai

I am a Promember for last 3 years. Network FP has helped me in my personal growth as well as growth in my career through regular learning sessions and toolbox files. Also Annual conference is an event I look forward to. And now I can earn CPD points also to maintain my CFP certification. Thank you Network FP team!

Toral Somaiya, Ahmedabad

Power packed sessions by industry thought leaders in annual conference show us the future path and tech exhibitors give us the desired tools for daily practice. Weekly Upskill sessions are great value addition too.

Harshit Vishwakarma, Jaipur

Network FP has been a pioneer in the field of knowledge management for MFDs and RIAs over the last many years. They have developed a niche which is very tough to replicate. NFP Team has been continuously working on making better the subscriber experience. Their weekly sessions, monthly master classes or the annual conference are all world class. Truly a path-breaker in the field of knowledge management and the subscription fee is a true value for money for the advisors.

Venkateswaran Muthukrishnan, Chennai

Network FP has helped me build me practice, as it gives me a opportunity to learn,unlearn,relearn from industry experts and from financial planners who are actually on the ground. More importantly, its experience based learnings and that helps me to avoid making mistakes through experiences of other planners which further accelerates my practice.

Khyati Mashru, Mumbai

Plantrich

The very idea of constantly upgrading the torchbearers of the Financial services industry, by itself, is a progressive approach towards building quality of advice and wealth building for individuals, percolating it upto nation building…. Kudos to Network FP and team for the tireless, seamless and consistent efforts. Wishing good luck and blessings for more and more reach.

Balajee B R, Hyderabad

I have used tool in ToolBox to show cash-flows during client meetings and got very good response and investments. I have learned many thing in weekly sessions

Jaimin Vaidya, Vadodara

NFP has been very clear in terms of helping IFA in setting up their practice and making them understand with clear laid down process that can be accessed and worked upon in our own business areas. This has been of tremendous help. I have got connected with different IFA's and CFP's and the dsicussion with them has immensely helped me.

Vivek Pathak, Delhi
Register
Network FP ProMembership ACE Program is a yearly subscription which gives you access to attend weekly, monthly and annual sessions (live or recorded) for one full year.
Register Now
Instant SignUp Benefits - Access to past one year recordings, Toolbox files and ClientConnect images.
Got Any Questions?
Write to us on
shilpa@networkfp.com
/
+918454049011