September 14, 2021
Compounding Beyond Finances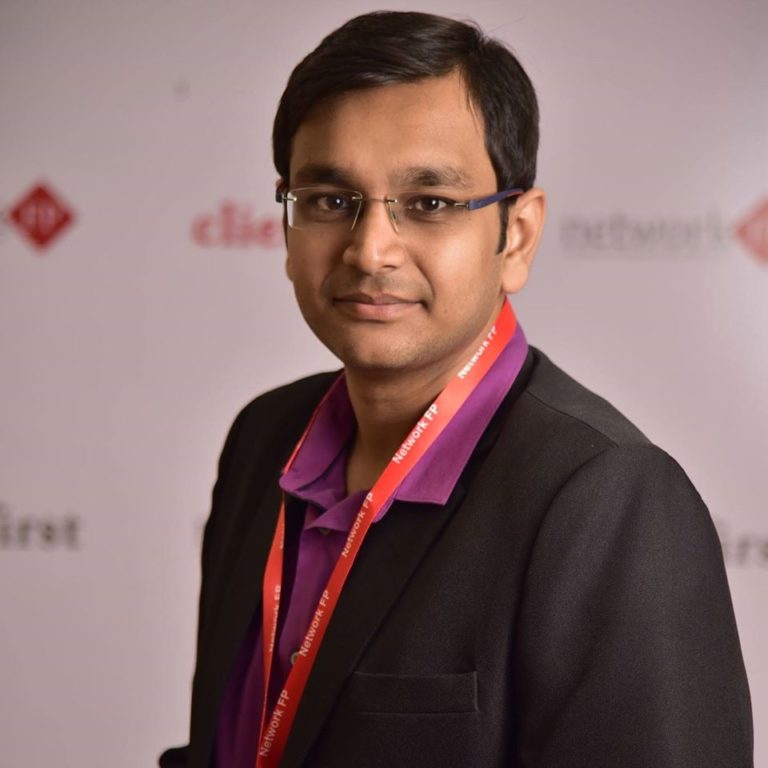 Aditya Singhania
Financial Coach @PlanRich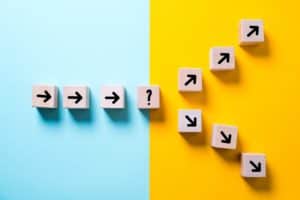 We all know how compounding is said to be the 8th wonder of the world. Even an average person who consistently invests over the long term can build a sizable wealth with the magic of compounding.
But most people (including us) just know the compounding and how it works. But, we don't really understand the impact it has on our lives every day.
The concept of compounding goes far beyond finance and investments. A person who truly understands compounding cannot just transform his financial life but also his health/ relations/ work life etc.
Compounding truly has the power to make a person a better or worse version of himself. Compounding is beautifully explained as "The power of tiny gains" in the famous book Atomic Habits by James Clear.
The author beautifully describes in the below image that how just being 1% better every day can make a person 37.78 times better in a year. But, he also describes if we get 1% worse every day, then we lose our edge and we practically need to start again from scratch in a year.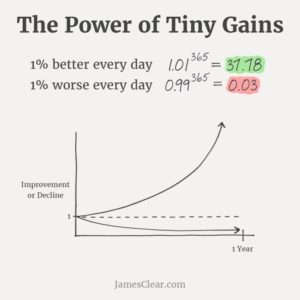 Now we know that each and every action we take towards the day will have positive or negative compounding effects on our lives. So, now let's see some areas of our lives we all want to be better at and how compounding can help us achieve the same.
Let me tell my limitations and things I have done to make it better –
Health
Goals
Eat healthy,
Be physically active,
Consume calories as per my BMI,
Have a reward system for every health milestone achieved.
Implementation of simple solutions:
Made a goal card I see every day (This keeps me on track and less distracted).
Started cycling after almost a decade (This keeps me physically active and is a super fun outdoor activity).
Started going to a fitness center that conducts high-intensity workouts, 4 times a week (This helps me increase my physical strength and keep me motivated with other people pushing me to get better).
Started counting my calories intake (I need to maintain my calories deficit to reduce weight- I use the HealthifyMe app for tracking my calories)
Treat myself one a week with dessert for following all solutions (Keeps me motivated)
Started using stairs instead of the lift (I would like to quantify this one example for better understanding)
Did you know that by just using stairs instead of lifts we burn around 20 calories when we climb around 4 floors daily?
This activity alone can help a person reduce around 1 kg weight in a year (1 kg body weight has around 7,700 calories). So, this one simple daily activity compounds over time to make our body healthier and burn extra calories. This is the magic of compounding.
Post lockdown, I gained 5kgs weight and now I was overweight by 25 kgs according to BMI. I have tried many diet plans and exercises over the last many years and have got results only to relapse and gain additional weight.
I followed the above simple solutions which have compounded over many months. Over the last 6-7 months I have lost more than 7 kgs and have also gained a good amount of muscle mass, and feel much more energetic. I was recently able to complete one proper full push-up (Yes, that was a big achievement for me). The best part is that these changes have become my habits and are now part of my lifestyle.
Business/Work life
Goals:
Better client experience,
Client relationship,
Ideal clients acquisitions,
Time Management,
Better processes
Implementation of simple solutions:
Work only with an ideal client (Prefer working only with the client we can truly help, the clients who value what we offer, the client you love working with, the client who has the right mindset, the clients who meet the minimum asset requirement, etc. This was a tough call to make but the best decision I have made so far. One non-ideal client will refer to another non-ideal client which in the end leads us to have 10 more non-ideal clients. This also keeps on compounding with time).
Setting right expectations with clients in the first meeting (I always believe in under-promising and over-delivering. Be it experience or overall performance. This is the best way to build long-lasting relationships)
Transparent about your value proposition and deliverables (This is what makes us different from the market place and this will be our prime USP)
Stopped attending endless market outlook and product presentations by AMC (This activity is one of the least productive and wastes a lot of time for most people. Now, I just read market outlook by 2 AMC's every month which gives me sufficient insights. My prime focus is always on asset allocation and client goals which are the most important)
Having a predefined agenda and process for client review meetings (This will save so much time in the long term and also help to keep the conversation on matters which are most important for the client. When the agenda is not fixed most conversations go into discussing politics and market view which are both beyond our control)
Limited product offering (I personally don't believe in becoming a one-stop solution for everything, but I would rather prefer to have 2-3 core offerings and become a master of them. Also, I would only include products in my offering which I would personally use or will be comfortable to invest my parent's money)
Saying no to new clients and working only with a limited number of ideal clients with higher wallet share (I personally conduct only around 6-8 new meetings a month with ideal prospects and only accept around 2-3 new clients in a month who have the right mindset. As of now I personally cannot handle more than 100 families for the service I provide. So, my time and energy are focused more on existing clients)
I have personally tried to improvise my processes and offering over the last 3 years and the above-discussed solutions have worked like magic for me.
We need to understand that our relationship with clients is purely based on trust. We end up becoming extended family, a guide, friend, mentor, and custodian of their wellbeing. With time this relationship also compounds. And the best part of our profession is that we can only grow if we help our clients grow. That's compounding in true sense.
Knowledge/Self Development
Goals:
Investing in myself,
Becoming a better person,
Read more,
Learn from other's experiences and mistakes.
Implementation of simple solutions:
Have fixed time for learning/reading (We will never get time if we don't allocate time. I have personally allocated around 2 hours for learning new stuff and reading but we can even start with 10-15 minutes a day. If a person just reads 10 pages a day then they can read 1 book a month and 12 books in a year. Isn't it amazing?)
Listen to Audio-books when not in a mood to read (I personally use Audible. It is very useful when I am not in a mood or while cycling or traveling)
Listening to podcasts/watching podcasts on diverse topics (It's very difficult for me to read on topics which I don't have a high interest in. But the podcast comes to my rescue. Also nowadays we have many podcasts in video format which are very interactive)
Learn through Course/training programs (I mostly end up doing 3-4 courses a year on diverse topics like excel, meditation, investing, and self-development, etc. This can be a good way to learn something new from industry experts)
Meeting or treating dinner to people you admire (You can learn so much from a wise person in one meeting. Why do you think people line up to pay millions of dollars every year to have a chance to get dinner with Warren Buffett?)
It is famously said by Benjamin Franklin that "An investment in knowledge pays the best interest".
I have been lucky to understand this very early in life. Now I am 27 and I allocate almost 5-10% of my yearly income to learning something new every year. In my early years of corporate life, I used to allocate more than 50% of my income to learning new things.
Over the years I have gained immense knowledge on topics like: –
Digital marketing – Helped me marketing my services and catering to increase my geographical presence.
Communication courses – Help me in better conversations with clients and friends
Self-development – Helped in becoming more confident and a better version of me. This also helps me gain immense clarity on what I want from my life.
Life coaching – Help in mentoring clients and being able to help them focus on things that matter most in their life
Time management – Helps me allocate time in a way that makes my day more productive
Technical and fundamental analysis – Helps in understanding the market in a much better way. This also helps me reduce my dependency on others. (This was important for me because I was an Equity research analyst for a PMS firm before starting my own firm)
Poker playing– One of the courses on playing poker and actually playing the game over years has helped me learn about probability, asset allocation, and behavioral finance more than all the financial books I have ever read.
So, I would say it is true that "The best investment a person can make is in himself". Over the years we can make small positive changes in our life which compounds like magic. The only regret we might have been that why didn't we start it sooner.
Do share in comments which areas of your life would like to improve and what new habit you will be implementing to get compounding benefits over the years…
---
11 Thoughts to "Compounding Beyond Finances"