September 22, 2020
Driving Meaningful Review Conversations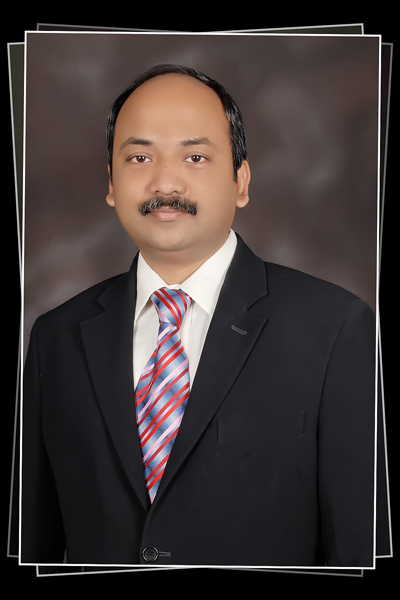 Shailendra Kumar
Co-founder - FinAtoZ.com
Honestly speaking, handling reviews with most of our clients, in the recent times, has been challenging. Markets hitting various highs, clients' portfolios not reflecting the same growth, uncertainties of today's times and a new surprise every few days thrown by this year at us. To make matters worse, for a few clients it had been a long wait to see good returns. However, during the review meetings, we have found that not all interactions with the clients were focussed on 'returns' This demanded a deeper look into these cases and here I present our findings:
It should be clearly established that an advisor is not a fortune-teller who can tell the next in-thing, but is trying to balance the risk-reward in the clients' portfolio.
Here is a framework which I have adapted from Stephen Covey's book to make a point in our area of personal finance. Stephen Covey, the author of '7 Habits of Highly Effective People', and if you have not already read his book, then please make a note of it, and it is a must read for every advisor.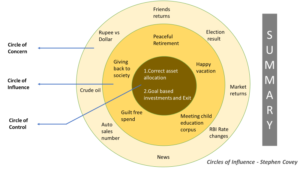 Focussing your efforts on the circle of influence and circle of control, has tremendous benefits in the long-run for one's financial journey. This helps us to get the discussion back to those areas, which will really help the client.
1. Demonstrating how past decisions have worked for your client. If you have done any of these for your client, like getting out of costly ULIPs or Real estate, or moving money from FDs to Debt Mutual funds remind him of the value add done by you.
2. Sticking to a recommended asset allocation and using a consistent framework to rebalance & give advice helps the client to gain confidence in the process. Asset allocation should be the core principle on which the whole financial review should be based on.
3. The boundaries of responsibilities should be established and discussed, mention it that both you and the client are acting as a team to take this financial journey to achieve the identified financial goals. Ignoring the distractions and being focused on his goals and priorities goes a long way to show your main intention is his financial success.
While making investment choices you may not get a favourable outcome, and this can happen with anyone. But while evaluating you as a financial advisor, the client should see it clearly, that your interests are aligned and you are focussed on his financial success.
So, in summary, review exercises are beyond tracking progress and status of investments. Objectively, reviews should also be treated as checkpoints of client behaviour and expectations. We need to inculcate the idea that advisors act as clients' partners or mentors in their financial journey and not some magical forces of nature. In this way, we will only create a more mature class of investors.
What do you do differently during your reviews with your clients? Do share your ideas with us in the comments below.
---
One response to "Driving Meaningful Review Conversations"