October 26, 2021
Engaging clients beyond portfolio
Rohit Shah
Founder, Getting You Rich
Once upon a time, many advisors used to be worried that clients would abandon me if they are not happy with the portfolio returns.
Because of that the advisors were paranoid and would focus only on returns, returns & returns.
Because of that, the clients would also focus only on returns, returns & returns.
Until a few advisors realized that the trick is to focus on goals to facilitate life-long trans-generational investing, many advisors kept wondering how to engage clients?
So what are we going to talk about today?'
One of the easiest ways to answer this question is to structure your delivery throughout the year. As an example, we broadly attempt something like below: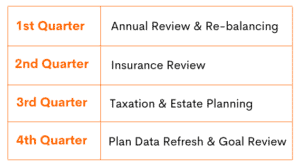 Do we always succeed in our agenda? No. But we certainly don't face the challenge of 'portfolio' getting discussed in every meeting.
Some of the other ideas you can use for meetings:
Goal Setting
Non-Financial Discovery
Life Planning
Kids & Money
Investing Framework
History of Market Bubbles
Inspiring money stories (e.g. Oseola McCarty)
It will be a good idea to communicate your plan at the beginning of the year. You can send the agenda for every meeting a day in advance. Declare at the beginning of every meeting that 'Today we have planned to cover ——. Is there anything else that you would like to be covered?'
Remind them at the end:
"Our next meeting is scheduled after ……. and the plan is to take up ….'
'Hey – But the client keeps going back to the portfolio discussion'.
Yes, it's natural. I would politely remind them that:
`We would be taking up annual review & re-balancing of the portfolio in the JFM quarter. Let's focus today on —–'.
While we will certainly answer any questions they have on the portfolio, reading Nick Murray, our attitude has been
'Our meeting, our agenda'.
But the client is worried that markets will fall. Shouldn't we address the elephant in the room?
Yes, of course. We have to ensure that the client is comfortable with 'our way'. If a client is facing a life transition situation, we cannot ask him to wait for the 'annual portfolio review'.
Nick Murray advises using direct questions like
'What's your question behind this question?'
Or directly address the fear
'What's your fear?'
But we have to differentiate between a genuine situation and the 'performance junkies'.
Many investors' mindsets are hard-wired with poor beliefs about 'portfolio performance they expect'. Ideally, this should be addressed in the 'prospecting' stage. You can also use your newsletter, WhatsApp, bear market, half-year or yearly communication opportunities to set expectations on 'your investment philosophy' & 'your way'.
To my mind, engaging clients in a meeting is not an issue to focus at all. The bigger question to be answered is
'What is my engagement framework?'
Because your delivery in an engagement is going to revolve around your framework. This is your experience & your practice beliefs. This is your recipe to consistently generate decent results for clients & profits for you, clients after clients & year after year.
Using open-ended questions can be very powerful. As an example, Mitch Anthony quotes an example of an advisor who lets clients talk for hours and hours on:
'Where are you from?'
While I digress, Mitch Anthony has written a beautiful book 'Storytelling Revisited: How Top Advisors Persuade'. Value for money is guaranteed.
That said, a senior advisor friend shared a million-dollar tip 😊
'Rohit – Never set up a client meeting without defining the end time'.
A senior advisor I know disengages clients who consistently focus and crib on portfolio returns.
In my experience, a client ignoring goals and focusing on portfolio returns in an unreasonable manner is a very easy problem to solve. We would be happy to say: 'Next'
And handling client objections becomes easy when we are ourselves convinced. To manage such issues with clients, check out 'Behavioral Investment Counselling' by Nick Murray.
There is a huge [no, HUGE] demand for a good quality investment advisory. Like we need to work very hard to retain clients, our clients also have to deserve us being their advisors.
'The Portfolio' business is overrated.
Share the article by clicking below on 👇👇 social media buttons and let everyone know about this important concept.
---
3 Thoughts to "Engaging clients beyond portfolio"