December 26, 2016
The EVOKE Experience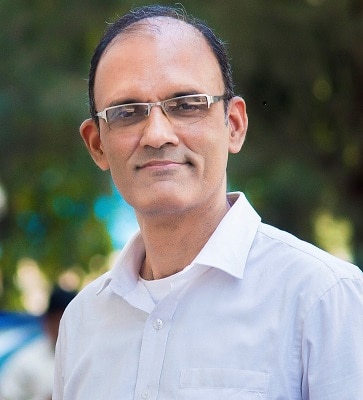 Suresh Sadagopan
CEO, Ladder7 Wealth Planners Pvt. Ltd.
Experience of Suresh Sadagopan as a participant in EVOKE Program
I had heard of Life Planning in 2010-2011. It seemed exciting, though it appeared to be a bit esoteric & far out. It looked like it was treading on the spiritual, psychotherapy zone, maybe even the life coach domains. I was not sure if this is what clients wanted from us – for, they were coming to us for financial nirvana, right?  Hence, this touchy feely stuff of what life planning represented looked like what Socrates would have taught Plato!
But that was at the beginning. We all have our skeptical side which looks askance at anything that doesn't fit into our neat cubbyholes. And we all instinctively tend to resist change & new ideas.
I read a bit more about life planning & warmed gradually to what it represented & what it can deliver. I read Seven Stages of Money Maturity by George Kinder, which I liked a lot. I have heard some complain that it was heavy stuff – but George did not promise to write Tintin comics, did he?  🙂
George Kinder has been a pioneer in the Life Planning space & had come up with his proprietary Kinder method of Life Planning.  He is widely acknowledged as the Father of Life Planning movement. Sadique ( of Network FP fame ) & myself met George at San Antonio, Texas, US in FPA conference & had invited him to come to India. It was a fond hope. Sadique was made of sterner stuff. He relentlessly pursued George Kinder & arranged the first Seven Stages of Money Maturity workshop in 2013. I attended that workshop, ably anchored by Mary Zimmerman.
EVOKE Life Planning Process developed by George Kinder
When the advanced training in Life planning by George Kinder called EVOKE was announced, I was among the first ones to throw the hands up in the air!
The day came. I did not know that I would have a crippling back ache before the event & would be hobbling about with an ungainly gait & a cummerbund ( not due to my sartorial preference, but it was what the doctor ordered ) to boot!
Vishy very graciously picked up the sitting duck on the d-day & we were off to our rendezvous.  We had entrusted the reins of our horses to the husky-voiced lady who thrives within the cartographic realms of google maps. She ably assisted us and was constantly chatting up with us… about going straight, exits, turning right & other twists & turns. Along the way, we got into an animated discussion and had missed some exit somewhere and were about 10 km's on a road that was going somewhere, but definitely away from RMP KEC – the venue of our program! You might be intrigued by the content of our discussion that could have been so absorbing as to make us oblivious to the basic instructions from the Google belle. For the record, it was not about wine, women & song – it was about Regulations & Compliances, a topic only RIAs could animatedly discuss!  We then resolved to pay attention to the mellifluous voice that was guiding us & soon found ourselves at the portals of RMP KEC.
After entering the place, we were struck by serenity & the sylvan surroundings of the place which was heightened by lush greenery all around. This indeed was the ideal environment for learning, which portended good outcomes.
This EVOKE training was the first to be conducted in India. George Kinder himself & Louis Vollebregt – a master trainer from Netherlands, were to conduct the program. There were three Registered Life Planners – Anita (also from Netherlands, who is Louis' wife), Niraj & Yogita (both from India), who were to assist the trainers. So, that's a contingent of five trainers for training a batch of 14 trainees (which incidentally is a full batch).
The first day sessions were mostly of a warm up & introductory nature. Louis was anchoring that.  George also came towards the evening.
The evening dinners were to be early on all days – at 6.30 PM itself.  The food in this place was good and the spread, modest. But, it served us well, for we have come for training and not on a gastronomic excursion.  The rooms were built as standalone units & were minimalist, yet comfortable. There was enough greenery around the room too, with verdant lawns in the quadrangle, in front. In the morning, we were able to hear the calls of various birds – a rarity for us city dwellers!
Morning sessions start at 8.15 AM.  Hence, we all had to get up at least by 6 AM to get ready & be there in the sessions on time. The first full day was anchored by George. We started with meditation for 15 minutes, which was a good way to start off the day. Louis was down with fever & stomach problems as his digestive system was militating against some food he had bunged in carelessly!
We eat anything, anywhere and don't realize the stress we are putting on our systems. We have of course grown used to it and our bodies are tropicalized & tolerant enough to accept any contaminations and take it in their stride. I feel, we may fall sick if we go to Netherlands, as the food may be too pure for comfort!
George is a communicator par excellence.  I wished I had his felicity with words & his erudition. He had read many of our ancient texts (like Patanjali ) – that too many times, which makes him almost an Indologist. His enthusiasm was infectious and he put us all at ease with encouraging words & enough praise to keep us levitating above the clouds, for years!
So, the exploration session started. We learned the fine art of listening and asking "Anything else?" in more tones than a dramatist may be familiar with J  the pauses (& the deafening silence that ensues) had been elevated to the level of a fine art, in these sessions!  And after the other person had poured his/her heart out, we want to be certain that, that is all there is to it. Are you sure, we ask, which loosens the tongue of even the stubbornly reticent.
We did the exercises through the day and were evaluated by the trainers and given feedback. That is the other thing we learned – the art of giving feedback.  George is a virtuoso here. We tend to hear so many good things about what we had done that we almost tend to get carried away. The points of improvements are there all right – but in that elevated frame in which we already were, nothing could have fazed us.
The next day we started with meditation & also had a brief Tai chi session.  I felt like a character from the 36 Chambers of Shaolin!  Today the session was on the Vision phase. In this phase, we would be energizing the clients by painting a vivid picture of the life they could create for themselves. It's called lighting the torch. This is probably the toughest segment of the Life Planning program.  We saw a wonderful demonstration by George himself. Louis did a demonstration too – which was a flawless textbook rendition of Visioning. The day was spent on lighting torches, which was lit and was burning with varying degrees of intensity & brightness!
We received feedback from all the five trainers in turns.  George had trained them wonderfully. They were all masters in giving authentic feedback. Niraj almost always said we were wonderful, which was reassuring in the extreme, especially after a delicate performance!  Yogita found our performances "Beautiful", which was like a balm after our attempts to light the torch!  Anita was equally profuse in her praise and her suggestions for improvements almost always came with "just a little bit improvement", which endeared her to all participants. We all wanted to think we were doing well & these wonderful people helped us float among the pink colored clouds, even after they have given their feedback. It's an art we all hope to internalize!
The last two to offer feedback were Louis & George. Louis was meticulous. He noted down almost the entire conversation, word for word. If we had missed the word "possibly", he would know & it will come up in the feedback session!  His style is different from George – quite direct, yet without giving offense, with a good helping of appreciation. That's King Louis for you! The amazing thing about these trainers was that they were able to do this with the same energy till the close of the day!
The next day was on Obstacles, which could possibly torpedo the client's dream. We learned how to tackle these obstacles & help the client to reach their heart's core – the things that truly will add meaning to their life. That evening we were to have some light music session, this being the penultimate day. We invited our trainers too to participate in it. George suggested that we can do it in the canteen, just after dinner.
After dinner, I belted out Annie's Song by John Denver – You fill up my senses… Ganesh(the smiling Indian, as Louis had referred to him!  I have taken a Selfie with Ganesh) sang a bhajan. George became Boy George – He did not sing Karma Chameleon… but sang a children's song & gently danced to the tune. It was a spirited performance. Awesome!  Louis sang a hymn. He had a good voice and could have been an operatic performer if alternate career options were ever needed for him! We sang a few more songs in the canteen & then let them go.
The venue shifted and the revelry continued. We were having an antakshari, where we discovered quite a few seasoned campaigners. Prakash revealed his humorous side & had us all in splits with his wise cracks & impersonations! The session went on till 11.30 PM that night.
The next day was for wrap up. We all gave our feedback of the program. All of us found the program to be quite useful & we all were quite convinced that we can make a meaningful difference in the lives of our clients. I proposed the vote of thanks on behalf of the participants. Sadique was there too on that last day.
After lunch, we waved goodbyes and were on our way to see what we can do in the real world. It was wonderful doing this program. This is an amazing communication program, apart from being a Life Planning program. It was an enriching experience which will also help us immensely in our current work too. That's the bonus from this program.
The Google lass unerringly directed us to our destination. We were on a familiar route too & hence were less worried about any detours, en route. Vishy dropped me off at home.
We met some amazing people, our trainers and our fellow trainees. We are all fired up and our torch is lit.  Our trainers have shown us the light and they have led us on this path of a new learning, a new experience.
We are now looking forward to Lighting the torches of our clients & setting them up for a life imbued with meaning. We hope to be that kindly light that will lead them on…
---
3 Thoughts to "The EVOKE Experience"