June 8, 2013
Extremely Useful Application – Use an Online Password Manager!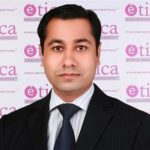 Gajendra Kothari
MD & CEO, Etica Wealth Management Pvt Ltd
We as financial planners try to help our clients achieve their financial goals by becoming their personal CFO. But do we ever try to go beyond their financial lives and help them achieve efficiency in their personal / work lives. When I meet lot of my clients, one thing I find that many of them are struggling with is 'technology'. The reason may be security issues or it is simply too complicated stuff for them.
I am surprised that even the senior professionals score poorly when it comes to their TQ (Technology Quotient). Apart from the usual personal finance queries, many of my clients ask me which printer to buy, which apps to download, whether iOS is good or Android is the future etc. Why not help our clients sometimes beyond numbers to score some brownie points and keep building trust?
Recently I shared this fantastic application with our clients through our newsletter and I thought it will equally useful to financial planners & advisors. So here is one online application which I certainly believe will change yours and your clients experience as far as their digital life is concerned – LastPass: An Online Password Manager
I am sure you must be utterly bitterly confused (I love Amul) in remembering so many passwords (Banks, Credit Cards, Emails, Facebook, Twitter, Mutual Funds, Insurance, Movies, Online bill payments, Emails, Online Applications, Website Logins etc) and to make matter worse you are asked to change the passwords on a frequent basis. The torture does't end there. They ask us to use a combination of capital letter, a small letter, a character, a numerical and should be anywhere between 8 to 15 characters.
Even after finding this magical combination, the screen pops up saying "Your password should be different from last 3 passwords". Feels like smashing your screen. I too have been facing this madness for a long time and was struggling to find a solution. Just like you, I was keeping all data in my email or my phone or worse in a diary which was very dangerous. Thank goodness, technology has come to my rescue yet again and I have found a brilliant solution in Lastpass to help me manage my passwords.
LastPass is a password manager that makes web browsing easier and more secure. It is the last password you'll ever have to remember. Yes you heard it right. And it is highly secure. These are the following advantages of Lastpass –
Its easy to setup
Its 100% safe. Protect yourself against phishing scams, online fraud, and malware
Its secure. The company uses the same security level which Govt of USA does for their data security. The data is completely encrypted and Lastpass employees do not have access to your data. The data is stored locally on your computer in a crypted form.
Its everywhere. You can automatically synchronizes your data: access it from anywhere at anytime from any device.
Its multi-platform. Using a Mac, Windows, or Linux? Using iPhone, iPad, Android, Blackberry, Windows Phone. LastPass works everywhere.
Forbes, Economist, PC World 100, CNET have all given amazing reviews about this application
And lastly its FREE!!! (and we just love anything which is FREE)
Use the below link to open a Lastpass account and you'll also get 1 month free subscription to Lastpass Premium service
I have been using it for last few weeks and believe me this is one of the greatest application I have ever seen. Now my entire password managing exercise has become a cakewalk. No more cumbersome passwords to remember.  I have spent a lot of time researching on this and can confidently say that I have become an expert on this 🙂 So if you have any query on how to go about it, drop in a comment… I will be happy to respond. And if you like this pls share with your friends / clients as good things in life should always be shared
Happy Passwording!
Authored by,
Gajendra Kothari
MD & CEO
Ética Wealth Management Private Limited
Mumbai
---
9 Thoughts to "Extremely Useful Application – Use an Online Password Manager!"