February 16, 2017
The First RIA Summit Experience!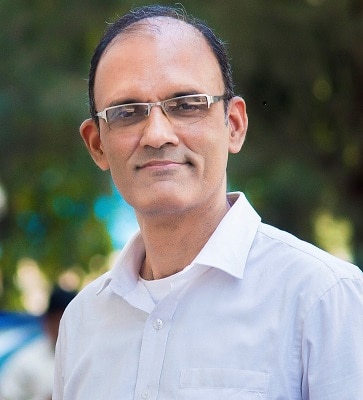 Suresh Sadagopan
CEO, Ladder7 Wealth Planners Pvt. Ltd.
The First RIA Summit Experience!
The turn of the year brings in the chills and with it, a whole assortment  of sweet  delicacies to serenade the palate with .  Gulab jamoons & Gajar ka halwa top the dessert charts, at this time.  There is a heavenly aroma wafting from the vendors round the street corners who are roasting Corn over burning embers & service it with a daub of salt & lemon.  Even Sankranti comes around the middle of this month, bringing in it's wake mouthwatering goodies. We can safely put aside the lofty new year resolutions of losing weight & eating healthy for now – January being just the first month…  lots of time to catch up with our resolutions!
January is also that time of the year where the salubrious weather brings rosebuds to the cheeks & the better side of life seems to mark it's presence. And January is the month Network FP conducts it's signature annual conference.
The Lalit experiences the buzz & adrenaline of finance professionals towards the end of January and this year proved no different. When I said, no different, I meant the conference happened around the same time. But, there was a difference.
This year, we had a RIA Summit as an opening gambit , the first time by Network FP and for that matter, the very first time such an event was ever done in India!  The idea of the Summit was to gather the RIAs and look at a healthy cocktail of ideas & implementables, which could prove handy in furthering the practice. The RIA Summit was to be held in the World Café format to ensure enough discussions among the participants along with summarization of the collective wisdom in the room, on various aspects discussed. The day for Racing Ahead (which was the theme of the Summit ) was 24th January.
After fortifying ourselves with a healthy breakfast of Succulent Aloo Parathas  with a dash of pickles & generous helpings of curds ( prepared from milk of contented cows! ), we got into the conference room.  On the way, we picked up the customary tea before weighty matters were to be discussed.
Lovaii Navlakhi & Vishal Dhawan were the chair and co-chair for this RIA Summit. Lovaii set the ball rolling by putting the whole World Café format in perspective & how we were all going to contribute our mite in this collective learning experiment!
Devang Shah, with his beard back in place ( he had shaved it off sometime in October  16 ) and looking his dapper self again, was the moderator of the first session. He set the stage for what would be a great learning experience.
The first World Café was on Different solutions by RIAs & Fee Ranges / Models. We were all sitting around at multiple tables and were to deliberate on the three questions posted by Devang. This is not to be confused with the three questions of George Kinder (  Devang did not ask about our regrets in life, if we just had 24 hours! )  So, what came out of our discussions was different ways of serving clients be it with Succession planning, life planning, Tech based advice… using different fee models.
There was next a panel discussion moderated by Vishal Dhawan on creating & delivering value. The session after that saw Lovaii facilitating experience sharing by RIAs, who have undergone Audits. We were pleasantly surprised to note that SEBI is adopting a constructive attitude in inspections and shares feedback on what improvements may be made.  The nameless fear we were carrying in our mind of Regulatory  reps beaning us with blunt instruments was quelled 🙂
The next World Café was on creating a compliance checklist, moderated by Rohit Shah.  Rohit was able to keep the troops hard at work with a simple threat  – those who won't participate & contribute wholeheartedly were to come up with a complete compliance checklist!  The threat worked like a charm! Best practices for conflict avoidance, disclosure, modes of sharing information etc. were discussed.  Rohit did not have to act on his threat. A panel discussion on Tech platforms followed, moderated by Vivek Rege.
Lunch separated the next World Café, which was on Technology requirements.  Uday Dhoot anchored this session. A raft of tech software that could be used came up – in CRM, billing, research, emailing, riskprofiling etc. RIAs came up with areas where they needed tech solutions and there were many. Collection of fees came out on top of areas where we needed help.  A collective groan was heard when discussing fee-collection!
The next world café was on How RIAs can collaborate with other RIAs , Robos, MFDs etc. Yours truly was moderating that session. There were lots of possibilities that came out… RIAs can take the help of other RIAs to contact clients in other cities, can leverage special skills which other RIAs may have, can collaborate with MFDs & have a referral relationship etc. were discussed. Collaborations with lawyers, travel planners, tax advisors, wedding planners etc. , came up.  RIAs seemed to be at the centre of the solar system with the possibility of having a whole planetary system of collaborators!
The last World Café was anchored by Rajendra Kalur, which was about Mass awareness & creation of an organized body of RIAs. Some very interesting suggestions came up. The one that caught everyone's fancy was – "Mutual Funds are subject to Market Risk; Please consult a RIA before investing!"  Another out of the box suggestion was Sec 80 RIA, a mythical section that would allow FP/ Advisory fees as an allowable expense!  Another important outcome of this WC is the formation of a RIA taskforce to initiate dialogue with SEBI & other stakeholders. This should be useful for the RIA community in the years to come.
Summarisation of all the World Cafes were done with aplomb by the duo of Shalini Dhawan & Kiran Telang.  All done, the field was open to Vishal to give his concluding remarks. Sadique jumped on the stage and in his inimitable style asked if there were good learnings.  What can we say… we had to agree – after all the host was asking us 😉 He thanked all those who made the summit possible & called all of us on stage. The photos were taken, the team & volunteers of Network FP were felicitated and the jamboree came to an end.  After a round of informal discussions outside, we were ready to leave and our horses (they call them ola/uber these days) took us home!
---
6 Thoughts to "The First RIA Summit Experience!"