May 12, 2014
Get this Cancer Insurance Policy for Yourself & Your Clients – Gaurav Mashruwala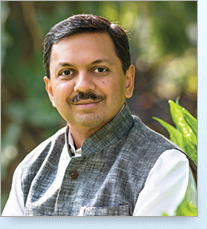 Gaurav Mashruwala
Financial Planner, Author, Speaker, Columnist
Cancer is an ailment which require continuous monitoring and treatment. All of it may not be requiring hospitalization. Further cost of various investigative test are high. Some of these tests may have to be taken in specialty testing centre which are not attached to any hospital and hence at times standard medical policy may not cover it. There could also be costs involved for follow-up surveillance etc. which would fall beyond the post- hospitalization expenses covered by standard medical insurance plan. This Cancer Insurance Policy issued by Cancer Patients Aid Association would come handy there.
I have earlier version of the cancer policy. Where one time premium was Rs 6,500.00 and coverage is for life. This policy has been of benefit to me during my treatment of the cancer ailment.
Currently the One time Premium is Rs. 8,000 only for upto Rs. 2,00,000 Sum Assured for 15 years of Comprehensive Coverage.  
Even my family who have never been infected from ailment has benefited from the policy as every year they get themselves thoroughly checked up. Cancer Patient Aid-Association regularly sends reminder post-card for check up. Check-up is done thoroughly reports are send appropriately and this is included in one time premium we pay. In case of cancer earlier detection plays pivotal role in dealing with the treatment and hence yearly check-ups are useful.
I have been recommending this plan to my clients for several years now.
If none of the above are motivating enough to take coverage, here is last bit. Portion of one time premium we pay goes towards Cancer Patient Aid Association and hence entitles you to get tax benefit u/s 80-G.
I would highly recommend you to take this policy for yourself, your family and recommend your clients to take it also as part of Insurance Planning. Below is the Brochure of this Cancer Insurance Policy which includes contact details, premium details and benefits. Feel free to write to me in case there are queries. 
'
Authored by,
Gaurav Mashruwala
Proprietor
A Cutting Edge
Mumbai
---
18 Thoughts to "Get this Cancer Insurance Policy for Yourself & Your Clients – Gaurav Mashruwala"