May 2, 2017
How I Grew My Sales By Over 100 Times By Asking Crazy Questions?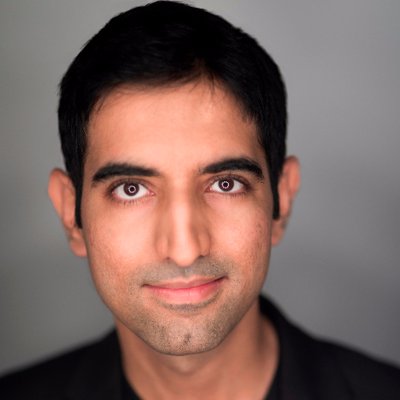 Yogesh Chabria
Founder, The Happionaire®
How I Grew My Sales By Over 100 Times By Asking Crazy Questions?
Have you ever asked yourself a crazy question? How did it feel? What happened to you when you asked yourself a crazy question? Did it make you think better? Did it exercise your mental muscles? Or did you stop because of people around you?
I ask myself the craziest questions all the time. I even ask crazy questions to everyone I meet. These could be my private clients and entrepreneurs who are looking to rapidly scale up their business or people who attend our Happionaire Success seminars or just people I meet on a day to day basis.
As a young boy, I would ask so many questions, that I had been nicknamed "Mr. Why (Y)" – many times people would even get irritated by me, but I wouldn't care. Questions have immense power and the right questions have the power to change our life.
History has changed because people asked crazy questions. Right from "How can we fly?" to "How can we communicate with people on the other side of the world?"
I'll share one of the many times, I used the power of questions. The reason I am sharing this is so that you too can implement this power in your day to day life and increase your sales, business, earning potential and further upgrade your life.
When I started consulting and mentoring entrepreneurs and businesses, I wanted to reach the maximum number of people and change their life with what I have learned and practiced, in the shortest time period. I like having dominance and mastery in everything I do and bringing real value.
I asked myself, "How can I increase my sales by 100 times?"
As soon as I asked myself this question, I felt myself being challenged. Mentally, emotionally and even physically I felt my muscles tighten.  (Try asking yourself a challenging question. How does it feel? Do your muscles tense up too?)
But then, gradually, I calmed down and then got excited. I started looking at possibilities and asked myself more questions such as these:
"Where do my clients spend the maximum time?"
I found out that my clients spent most of their time on a few mainstream business magazines, newspapers, TV channels and websites. I also found out the seminars and conferences they attend. I found out the associations they are a part of.
"How can I constantly be seen and heard by my clients all the time?"
Now they that I knew where my clients spent their time, I immediately started contributing articles, appearing on the TV channels they watched and speaking at seminars and conferences they attended. Soon they knew Yogesh Chabria and were well aware of The Happionaire Way and what it could do for them.
"How can I gain trust and establish a rapport with my clients so that they know I can be of massive help?"
I made sure my articles, videos, books, radio interviews and TV appearances were all meant to add real world value to everyone who invested precious time. After hearing me or reading what I wrote, my clients had to get immediate benefits by taking action. As soon as they benefitted, I would gain their trust and establish a rapport.
Now they knew I could help them increase their sales, motivate their employees and bring in positive energy to move up to the next level, they knew I was there for them. It was like giving a free sample to let them know how much more they could benefit.
"How can I make my clients realize that they absolutely have no risk using my services and they will benefit at least 100 times more than what they pay me?"
I am very passionate about what I do. I get satisfaction when I see real world results. I wanted my clients to know this and that's why I offered them a solution where they had absolutely no risk while paying me. If they didn't get massive benefits, they didn't have to pay me. The secret to selling well is to provide a benefit so large; that they can't resist your product or service. Also, it goes against my personal values to take anything from someone if I am not giving them much more.
The above questions gave me answers which brought me as well as my customer's great breakthroughs and results. I don't believe I have super powers or am particularly more intelligent than anyone else. In fact, in many ways, I love taking the simplest, shortest and easiest route to achieve my goals.
Try asking yourself similar questions I asked myself. Turn off your phone and make sure nobody disturbs you for at least an hour.
Keep asking yourself questions and write it down on a paper. You will be pushing yourself mentally and you will start getting incredible answers. No matter what business you are in, whether you are a financial services provider, manufacturer or consultant – every business on the planet is a sales and marketing business.
Without sales and marketing, you can't move up to the next level and create a brand. Today because of the Happionaire™ brand that has been created over the past 10 years, I have a major Domination Advantage (DA) ™. A competitive advantage is a short term – but a Domination Advantage is long term and almost impossible for anyone else to replicate.
I know everyone who takes action right now, can achieve their goals and targets. I speak from experience, as there was a time in my life when I was struggling in every area of my life; and it all changed when I change my psychology and took massive action.
Will you be taking action right now to move to the next level? Will you grow your sales by over 100 times? Will you ask even crazier questions? If I heard a Yes, which I hope I did, I am sure you will succeed!
---