March 20, 2017
Is Life only about being a Financial Advisor? Or is there more?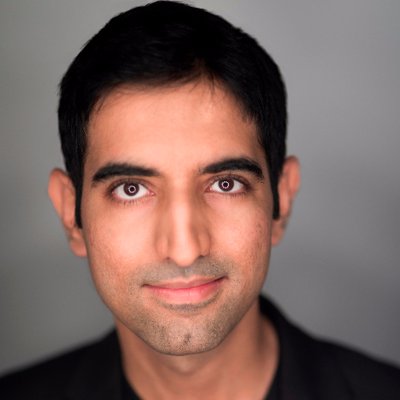 Yogesh Chabria
Founder, The Happionaire®
Is Life only about being a Financial Advisor? Or is there more?
I love business, I love sales and I love entrepreneurship. I started selling at the age of 5 and it is one of the best things that happened to me. Sales is what rewards performance, action, and results. I recently spoke on How Mahatma Gandhi, Steve Job and even Krishna We're in Sales and shared powerful strategies to increase sales at this year's annual Network FP Conference.
A few of you wrote to me sharing how you managed to increase your sales between 25 to 30% immediately after implementing these strategies. It's truly humbling and gives me immense satisfaction to know that I could be of help in whatever small way possible.
However, in my first column for you, I decided not to write about sales. Instead, I am going to share something even more powerful that will impact not just sales, but your entire life.
It is a personal experience, about which I have rarely spoken, until now. I was 29, and everything was going great. I had written several bestselling books and was considered an influential voice in the world of business and finance. Everything seemed perfect.
One day, while standing on the road and discussing a business deal, I suddenly blank out. The next thing I know, I have fallen down, and have blood dripping down from my head. I look down and find my clothes are soaked in blood. I am not able to understand what's happening.
Everything seems to happen in a flash and I can barely make sense of things. My wife rushes me to the hospital and the doctor orders all sorts of tests and scans. A few hours pass and they are still not able to find anything. The doctor decides to blame it on cholesterol and gives me countless pills, with a warning on how important it is for me to take them regularly.
As advised, I start taking all those pills, I control my diet and once again after around 10 days, I fall. This time, I injure my entire right arm. I dislocate my shoulder and now have to wear a cast.
I look like a bruised soldier with a head injury and a broken right arm. I am unable to drive or do most normal daily activities without help and forced to take bed rest. Now, I'm the type of person who hates sitting still, no matter what. I like to be always moving and working so you can imagine my situation.
The forced bed rest, though, works as a blessing in disguise and makes me think. I start observing my own life and I have a realization. All that is happening to me is a sign. It is happening for a reason. Doctors are unable to detect the reason because they have not gone in deeper.
I realize the main culprit is my lifestyle. My habits are affecting my health. I observe, how I am always on work related phone calls even at home and have meetings that go on late into the night. I never take a holiday and am constantly occupied, thinking about work.
This has caused me to disconnect from my family, from my loved ones, from laughter, and from my health. Since I'm constantly on the phone, in meetings or emailing for work, I barely speak to anyone at home.
All these problems add up and create tension at home. I realize that what I am doing is not true to my own values. I have stopped following my own advice, which I wrote in my first book, Invest The Happionaire Way, about life being more than just money and finance. It is about leading a full life filled with physical, mental, emotional and spiritual health.
In that one moment, I decide to change everything. I firstly throw away all the pills and medicines the doctor gave me. I know my mind and body is stronger than those pills. I change all my habits. I stop taking the phone after a certain hour. I limit my phone conversations to a few minutes. I stop having meetings after 5:30 in the evening and I take a break on the weekends.
I incorporate regular exercise in my life. I spend time with my wife, my loved ones, my family and friends. I also change my personal focus and The Happionaire Way's message to the world.
It is no longer only about financial wellbeing – but about overall success and holistic wellbeing. Every area of our life has to be balanced and abundant to make the most of life. Once every area is balanced, we will experience true happiness and bliss. We will experience gratitude for what we have and enjoy the moment.
This change in thought process, not only improved my health and relationships, it also had a wonderfully positive impact on my work. My productivity went up by several times. I was now doing a lot more productive work in much less time.
Today when I look back, I feel super lucky and blessed. I'm happy I blacked out and collapsed when I was 29. I'm happy that I had to go through what I did. It was a sign for me to change my ways.
Imagine, if that happened when I was 69? My life would have been very different and it might have been too late.
You are even luckier than me because you can learn from my experience. You can take immediate action and live a life where every area is balanced and successful.
True success is a life filled with happiness. Go ahead live your happionaire life today!
---
17 Thoughts to "Is Life only about being a Financial Advisor? Or is there more?"