August 3, 2021
The hunt for a coach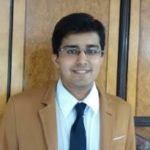 Jinay Savla
Founder, Indigenous Investors
India's run at the Tokyo Olympics 2020 has been satisfying so far. With 1 Silver medal and 1 Bronze medal won by Saikhom Mirabai Chanu and P V Sindhu respectively, it has given much-needed happiness in times when India battles with the possibility of a third wave of covid-19. As I write this, more athletes are advancing in different categories to bring home those wonderful medals.
But today I want to talk about ace table tennis player Manika Batra who lost out in round 3 bringing her journey to an abrupt end. Personally, I've never seen such a mentally strong and fearless player. The way Miss Batra moves along the table makes those hard smashes or top spins look like a walk in the park.
It was a treat to see her win the first 2 rounds. It was in the 3rd round, that a key weakness stemmed from her game. She didn't have a coach. Yes, you read that right. She was all alone in the ring, with no guidance. A lone warrior.
Please Note: The reason I can put some observation on such an athlete's game is that I've played club level table tennis. Gone against some champions whose top spins and backhand flips will remain etched in my memory forever.
In the 3rd round, Miss Batra played the first game with great intent. She was going toe to toe with her opponent. And boom, a couple of bad shots made her opponent take the game. It didn't end there, in subsequent games, Miss Polcanova took the game away from Miss Batra like a breeze passes in the wind.
Here's the summary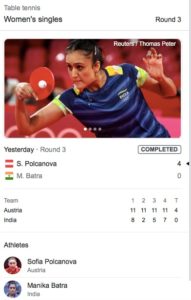 Source: Google
Having played the game against some champions, there is one thing I can say for sure. A coach is a must in this game. You may have the highest skills, but the chances of winning go down by 50% when you don't have a coach.
There's a whole new controversy now about Miss Batra being denied her coach. Read an article here.
What does a coach do?
A player is busy in the ring with emotions running high. There is a whole lot of confidence and fear running through our bloodstream at the same time. The game is short. 11 points only. Best of 5 or 7 games means we have less than 1 hour that will decide our fate. Years of hard work come down to that 1 hour.
In those critical moments, it's all about mental agility and figuring out the weakness of the opponent. You don't need to play every shot, but you surely need to understand the weakness of your opponent and press there. The harder you press, your chances of winning shoot up.
This is the most critical part played by the coach. Apart from training, motivation, diet, shot selection, etc, and everything else. At the final hour, it's all about understanding the opponent, their coach, and their game. Trust me, that's the deciding factor.
That's where games are won and lost. Unfortunately, our ace table tennis player didn't have anyone to control her emotions and show her the weakness of the opponent during the game. She had to make up those decisions all by herself which took a toll on her. At one point, it seemed to a viewer that somewhere she had accepted the fate of the game.
If you're a badminton fan, you know the role Mr. Gopichand plays alongside the ace shuttle player P.V. Sindhu. You can read about his journey in this fabulous article – Wedded to badminton: Pullela Gopichand and the sacrifices he makes.
We all know the role played by Mr. Achrekar in shaping the Batsman of our era – Sachin Tendulkar and every young Indian under 19 cricketers paying their respects to Rahul Dravid. Coaches have a special place in our hearts.
Personal Finance Implications
However, when it comes to understanding money and investments, there is a preference towards do it yourself (DIY) approach. It's not that this approach is wrong. By no means, we would like to state it. If you can do it yourself, then we are definitely happy.
But if this decision has been taken to save costs, then surely, it's not a wise one.
It's accepted wisdom that managing money is easy. It's not as complex as sending a man on the moon. That's true. If you have a bit of knowledge of finance or a background in commerce, you can just go to a website, check for the best-performing funds, and invest there. Or when you listen to some experts and feel that index funds are the best option. There is enough material available on financial literacy.
IF and NOW analogies!
These are gem to a reader's eyes. The article starts with IF you had an enormous amount of money back in the 1980s and you invested in ABC investment opportunities. Then you never sold it, NOW you would have been super-rich. It's hilarious.
Because in the last 30-40 years, India has grown up. There have been events that a weaker heart cannot handle. Right from Mr. Harshad Mehta scam, 2000 Internet bubble going burst, 2008 Global Financial crisis, 2013 – India entering in the territory of Fragile 5 economies, so and so forth. Of course, no one can rule out Demonetisation, GST and the most recent Covid-19.
It's easy to draw those charts and say money can be made. Just like when you plan that trip to Goa with your friends for the New Year. It's decided, whose car to take, whose place to stay, what to eat and drink – UNTIL someone becomes the first to cancel the plan. And the tornado unfolds.
Buy and Hold!
There is another concept where buying quality companies and holding them forever has become a fashion. So all you have to do is start some monthly payments to your broker who can buy those companies for you. It's simple. You don't have to do much.
But here's a catch. Even a great company can fall by 50% in a given year shaking the very confidence of investors. It's happening right now, as India's largest private bank is having some issues and every retail investor is writing it off saying that it won't be able to dominate anymore. Trust me, that bank has grown its net profits by 20% every year and grown from every disruption. Yet, investors have time and again written it off.
The hunt for a quick buck!
This is one more reason for many investors opting for a DIY approach. Mutual funds are slow. They don't give like 12% returns in a week, but small-cap stocks can. Fortunes can be reversed too, but not much attention is paid.
Need for a Coach!
A financial coach will, first of all, teach you about your finances. The best coaches go several miles ahead. They teach you to control your emotions not just under different market conditions, but also with respect to money and achieving your financial goals. They sit with you and make you ready for any unforeseen disasters that might occur in your financial life. It's a way to prepare for the worst while taking action for the best outcomes.
Equity Markets
Just like a sports coach, a financial coach will also tell you how to play the opponent. Suppose, the market has gone up 30% in less than 3 months. The returns start to look extraordinary. But the earnings of companies have not gone up so much. This calls for a cautious approach.
So rather than doubling down on your investments. Your coach would like to take a contrarian approach and take some money off the table. Safeguard your investments till the time earnings catch up and prices are favourable.
Asset Allocation
There can be times when you are doing very well in your career and want to invest everything in equity markets. Because nothing will ever go wrong with your job or business. So why not take the added risk!
Here, your coach will tell you that the winning streak is good. But there needs to be a cautious approach. Asset allocation must not be played around with. In fact, some coaches buff up the emergency corpus more because that would enable you to go through any unforeseen change with ease. While you are focused on the present, the coach is focused on the future as well.
How to identify a perfect financial coach?
It's very simple. Suppose, you want your child to learn batting and you have 3 options – Sachin Tendulkar (Rs. 1 lakh per week), Rahul Dravid (Rs. 85,000 per week), and Virender Sehwag (Rs. 75,000 per week).
Who will you choose and why?
Don't answer me. You already know it.
In the same way, every financial coach you meet, ask them to share their personal finance plan, their investment thesis, their plans with their own money ahead. You will be able to select your own coach from it. It's lengthy but worth the time and definitely worth the cost.
---
4 Thoughts to "The hunt for a coach"