March 8, 2022
Tomorrow Belongs To Women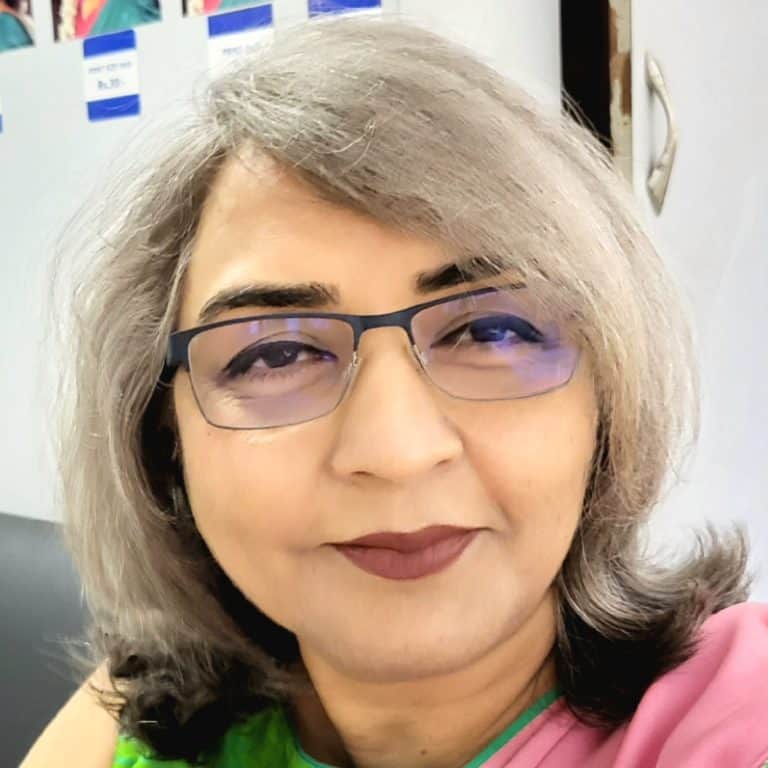 Renu Maheshwari
SEBI Registered Investment Adviser
This year's International Women's Day theme is #BreakTheBias And YES, collectively, we can all #BreakTheBias !
Gender stereotypes are being challenged and the diverse representation of women is more evident today than ever. I would like to share something that has influenced my ideology and the business practices at Finscholarz.
A few years back I had the privilege to listen to a woman IAS officer of Gujarat cadre on one of the Women's Day functions. While she spoke about the biases that exist in society and workplaces, she pointed out the bias in the minds of women themselves. She pointed out how women of our generation tried to act like men to be successful in the workplace.
How many of us still do that? Do women need to give up their natural Feminity to succeed in the male-dominated financial world? Very happy to say NO. As a matter of fact, women do a better job as financial advisers when they utilize their innate talents. The following narrative will help understand this belief better.
The financial intermediary business has grown since the times of door-to-door selling of financial products. The first stage of this business involved door-to-door selling of financial products and the skills needed were only selling skills. As the industry progressed and AUM-based remuneration became the norm the 'agents' started acquiring technical competency along with selling skills.
The agents transformed into 'Advisor' where product suitability was also taken into consideration. But sales continued to be the foundation of business. And unfortunately, 'advisory' became synonymous with selling. The real advisory needs more consulting skills (the art) built on technical competency.
With the advent of direct plans and investor education and online platforms; the selling of products cannot be the foundation of new-age financial intermediary business. An advisor will have to be competent enough to be a consultant in money matters. He/she will need to perform at least the following functions in the client's life, requiring diverse skill sets.
A true advisor should be able to address all these needs of the client while coping with regulatory changes, global market dynamics, and business/practice management.
In the words of Michael Kitces "ultimately there are four domains in which financial advisors may seek to improve their skills to advance their careers: competency (technical), empathy (relationships), sales (business development), and management (business execution) …. The number who can master all four will be relatively few – but those are also the ones who will likely rise to the top of the largest and most successful firms!"
This makes it THE JOB OF 21ST CENTURY!
'Tomorrow belongs to women' – says celebrated anthropologist Helen Fischer. Fischer reveals how women and their natural talents are changing the world, making them ideal leaders and successful shapers of business and society–today and on into the twenty-first century.
People with diverse skill sets can get together to run a practice that can cater to the needs of new-age investors or advisors can look to develop the following attributes in themselves:
Technical skills: Mathematical, analytical skills with an understanding of finance and market will be essential to run this practice which involves not only money management but investment and portfolio management too. More and more women are opting for this field and skilling themselves technically.
Web thinking: Web thinking and not vertical thinking will be prerequisites for the new age advisor. A holistic rather than atomistic approach will solve clients' problems. Web thinking facilitates a better ability to gather data and assimilate it to give diverse conclusions. The lesser lateralized brain helps malleability and flexibility of web thinking. As complexity increases the advisor's mental elasticity becomes an asset in planning. Psychologists assert that women naturally think contextually. They connect details faster and are natural 'web thinkers'. Helen Fischer in her book goes out to claim that the thicker corpus callosum in the female brain makes them a superior gender when it comes to coordination between the left and right brain.
Multi-tasking and Empathy: The parental duties performed by human beings for generations have developed unique characters, which are essential to the profession of the 21st century. Mothers in all cultures and societies have developed the genetic makeup to attend to multiple factors at the same time. Multi-tasking, ability to perform mental multi-variate analysis, looking at long term, and empathy are the traits valuable for a financial advisor. Intuition developed while performing other responsibilities in life is a handy skill useful in building long-term relations and developing empathy with clients.
A true financial advisor is responsible not only for the investments of his / her client but also for their mental peace and prosperity for life. It is an art built on the framework of technical education.
The superior verbal abilities, people savvy, acute senses and more makes us ideal for the jobs of the 21st century. Web thinking, multi-tasking, contextual analysis, intuitive behavior is a few of the notable traits that help us build contrast skills. This meeting of opposites is what makes women ideal for advisory jobs.
---
One response to "Tomorrow Belongs To Women"